Dihydromyrcenol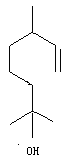 IDENTIFICATION
CHEMICAL NAME: 2.6-DIMETHYL-7-OCTEN-2-OL
FORMULA: C10H20O
CAS NO.: 18479-58-8
HS CODE: 2905290000
SPECIFICATIONS
APPEARANCE: Colorless liquid
ODOR: Powerful, tart, lime, cologne-like of the myrcenol derivatives, this is the sweetest and most lime like.
PURITY: 99.5%min
BOIL POINT: 77-79℃/1.3kpa
FLASH POINT ( CLOSED CUP): 74℃
REFRACTIVE INDEX (20℃): 1.439-1.443
RELATIVE DENSITY (D2525 ): 0.830-0.836
ACID VALUE (mg KOH/g): 1 max
USAGE
Dihydromyrcenol is widely used in alcoholic and industrial perfumes.
It is formulated in soap perfumes for lime and blossom notes.
It introduces fresh and powerful notes into floral bases.
STORAGE
Do not store in close proximity to excessive heat, open flames, strong acids or strong bases.
To minimize product degradation, avoid prolonged exposure of the substance to air.
Keep container tightly closed when not in use.
SHELF LIFE
Twelve months when stored under prescribed storage conditions.