Ethyl Vanillin
Product Name: Ethyl Vanillin
Chemical Name: 3-Ethoxy-4-Hydroxybenzaldehyde
Structural Formula: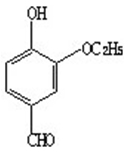 Molecular Formula: C9H10O3
Molecular Weight: 166.18
CAS No: 121-32-4

Specification:
Appearance: White to slightly yellow needle-like crystal or crystal powder.
Odour: Similar to Vanilla Beans, stronger than Vanillin.
Melting point: 76.0℃-78.0℃
Solubility (25℃): 1g of Ethyl vanillin should be soluble in 3ml 95% ethanol, and the obtained solution should be clear.
Purity: 99.5% min.
Loss on drying: ≤0.5%
Arsenic content: ≤0.0003%
Heavy metal (Pb): ≤0.001%
Residue on ignition: ≤0.05%
Packing: 20kg fiber drums;
Standard: Conform to QB/T1791-2006 / FCC/ USP requirements.
Application: It is one of the important edible flavors and fragrances and the raw material in food additive industry. It has full-bodied and lasting fragrance of Vanilla Beans and is 3-4 times as fragrant as Vanillin. It is widely used in food, sweets, candy, ice cream, drinks and cosmetics as fragrance fixative and additive. It is also used as pharmaceutical intermediate, feed additive and in electroplating industry.